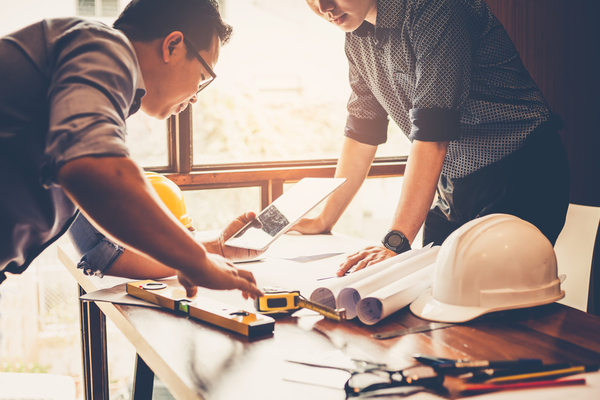 Vertical Recruitment is a specialist Civil Engineering Consultancy Recruitment Agency in Manchester and London. In the last 10 years we have become widely recognised across the built-environment sector for our knowledge, can-do attitude, and award-winning recruitment solutions within all Civil Consulting Engineering disciplines.
With our headquarters in Manchester and our new London office, we are ideally placed to solve your recruitment needs within Civil Engineering Consultancy, including Highway and Infrastructure design, transport and geotechnical specialisms, wherever your company or projects are based in the UK.
Our Civil Engineering Consultants are all experts in consulting engineering recruitment at all levels. We understand that finding the perfect candidate and match for your specific role, needs us to get beneath the surface with the candidates we put forward, and to read between the lines of your job description to get to the heart of the matter.
Civil Engineering Recruitment is a specialist field but also a highly competitive one in the current market. In recent times, a host of high-street recruiters and generalist recruiters purport to provide recruitment solutions in this arena, but few can match our consultants for their expertise in Civil Engineering.
Our consultants live and breathe this specialist field of consulting engineering. We know the qualities, qualifications, and experience that civil engineering consultancies look for, inside-out. We understand the challenges facing Civil Engineering firms in today's post-brexit, post-pandemic climate, which in part, is one of the reasons we are trusted time and time again by leading companies in the UK and beyond.
We will provide the right candidates for your exact needs, whether your role is permanent, contract or temporary. Whether hiring for a single role, or looking to build your team, we will ensure you build with the right human resources.
We can help with the brightest young talent, just entering the marketplace and fresh from graduating with Engineering degrees, right up to Director level. With our expertise and highly developed network and talent pipelining capability, you are assured we will find the best Civil Engineering talent, and make the best talent find you.
At every step, we are determined to treat you to an unrivalled level of service, ensure you stay fully informed throughout the recruitment process, and ultimately, we endeavour exceed expectations with the results we deliver.
Civil Consulting Engineering Recruitment Climate & Challenges
With over 17,000 companies operating in the UK Civil Engineering arena in and with this sub-set of the wider construction sector accounting for approximately £40 Billion of GDP, Civil Engineering is one of the most crucial industries when considering UK output across the construction sector.
Demand for the best talent and niche expertise in Civil Engineering has seen significant increase in recent years, Although Brexit and the Pandemic have but the breaks on some shovel-ready projects across 2019-2021, infrastructure construction projects are expected to roar back as the economy recovers, not least because climate change targets are expected to accelerate the move toward a more sustainable future. This has as a direct link to the government's promise to 'build back better' notably across road, rail, and energy infrastructure, not to mention central government plans to build an additional 300,000 houses per year.
The team at Vertical Recruitment are immersed in the world and challenges facing Civil Engineering consultancies. Over the past 10 years, we have demonstrated a proven track record in recruiting into Civil Engineering roles, and we have a deep appreciation of the skills & talent required for this important discipline.
Civil Engineering professionals are highly valued in the Built-Environment sphere of, but experts suggest the country faces somewhat of a skills shortage, and this is set to worsen in the coming years. In 2017 A report commissioned by 'The engineer' found that 20% of the Civil Engineering workforce is set to retire by 2032, and this expertise is not being replenished sufficiently from the ground-up, with a lack of entrants to Civil Engineering degrees meaning the skills-gap will likely only widen.
2019 figure from the ONS – year on year spend on Infrastructure projects: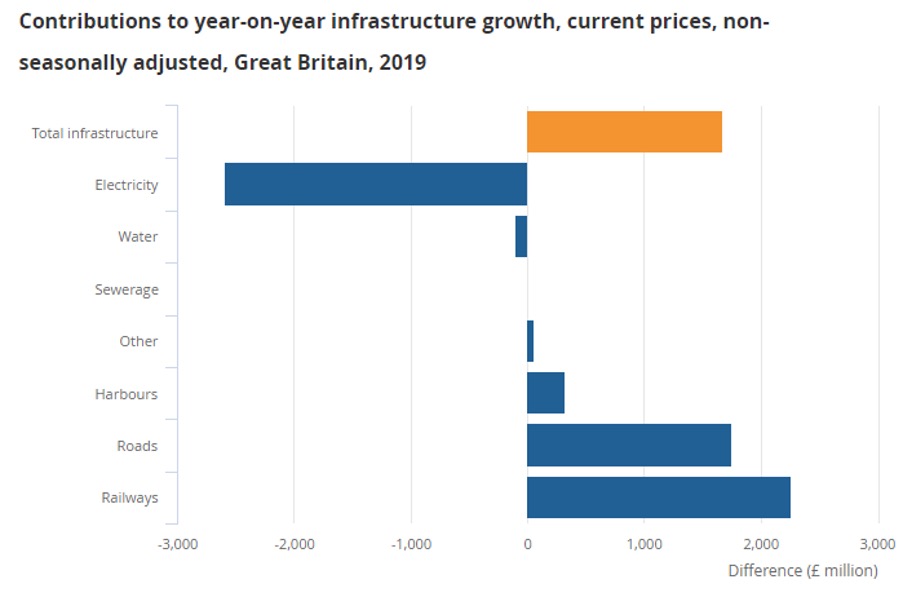 Specialist Recruitment For Civil Engineering
Our goal is to deliver the maximum return on human capital investment on every Civil engineering role we work on. Our time-served experience and the lengths to which we go to build longstanding relationships with our clients, puts us at the forefront of Civil Engineering Recruitment in the North of England Our new London office now positions us perfectly to facilitate a comprehensive Civil Engineer Recruitment Service in London and across the South of England.
We are award-winning in what we do, currently voted the North's 'Best Construction Recruitment Company' in The Grafters Awards. We have a strong reputation for matching the best talent to the specific needs of our clients. To deliver on this promise, we draw on team's experience.
Uniquely, we provide an unrivalled level of insight that greatly benefits the clients and candidates we work with. Our Road, Rail, & Infrastructure Consultants possess the commercial expertise to appraise job offer conditions in the current market enabling us to be pro-active in our approach to support your recruitment process. We work hard to make sure our clients and their packages are perfectly positioned to secure the best talent.
We know it is crucial that you get the right person, with the right experience and right attitude for your projects. Our bespoke recruitment solutions are tailored to your exact requirements, and we regularly succeed in placing professionals for the following Civil Engineering disciplines and more:
– Highways design engineers
– Infrastructure Design Engineers (not IT)
– Bridge Design Engineers (highways structures)
– Transport Planners / Modellers
– Drainage Design Engineers
– ITS Design Engineers
– Geotechnical Engineers
– Streetlighting Design Engineers
Each year we partner with Place North West, to publish our widely recognised, Built-environment salary survey. Civil Engineering has comprised one of the core disciplines in this survey for many years. This is real USP for Vertical Recruitment's team.
Our ongoing candidate sentiment appraisal and communication with Civil engineering professionals provides our team and clients with a truly unbeatable level of insight and a real depth of understanding into the to match the best talent to the most fitting role, and the best career opportunities to the candidate with specific goals of their own.
Our Salary Survey work allows us to stay in direct contact with Civil engineers whether passive or active in the jobs market. Our network of professionals stay engaged with us, and we too keep abreast of the market because we learn from them, this two-way engagement helps refresh and bolster our civil engineering talent-pool. This is how we can be sure to find the right candidate for your needs, despite many deeming that Civil Engineering is struggling with a UK-wide skills gap.
Vertical Recruitment work with UK Civil Engineering Consultancy organisations of all sizes and disciplines. Across Civil Engineering specialisms we work with global multi-disciplinary consultancies, through to National and Independent Civil Engineering Consultancies specialising in Highway, Infrastructure and Rail Projects of all types and scale. Vertical supply central and local government departments specialising in public real improvement schemes across all aspects of Highways and Infrastructure. Vertical specialise in the supply of technical staff across all major Civil Engineering Consultancy Disciplines.
Whatever the size and stature of your business and the projects you take on, whether £10 million or £multi-billion mega projects such as HS2, Hinkley Point, Crossrail, or the TransPennine road tunnel, we have the expertise and access to the right talent to keep your team and project work on track.
We supply at entry-level Civil Engineering roles, and mid-management positions right though to tailored search and selection solutions for Directors and Board appointments.
Vertical recruitment's areas of expertise encompass Bridge design, Highways and Infrastructure, Rail, Utilities, Marine, Airports, and Private Civil engineering works. We are regularly trusted recruitment partner for Civil Engineering roles for the likes of Capita, Aecom, BWB, Vectos, Wilde, SCP.
Finding Top Talent For Civil Engineering Roles
Our annual salary survey and association with Place North West, gives us direct access into the Civil Engineering community and provides insight into the mindset of the individuals who work there. This provides real benefits to our work and gives us and our clients a competitive edge over the competition.
Our engagement with Civil Engineers for the purpose of our survey uncovers:
• A current and refreshed appreciation of what Civil Engineering professionals look for from their careers and potential next role.
• What candidates perceive as threats and concerns to their area of specialism.
• New professional entering the market, allowing us to build rapport, engage and talent pipeline.
• What Civil Engineers are looking for in job offer packages over and above the salary.
Our annual survey allows us to harvest unique insight into the Civil Engineering fraternity and allows us to build real direct relationships with the individuals who are building their careers.
Our team use these insights and relationships to help our clients and candidate make the right decisions and about their next placement or career move. We help our clients make tailored approaches when the time is right, confident in the knowledge that we will press the right buttons.
Our most recent Salary Survey demonstrated the average salary for graduate roles, starting out in Civil Engineering disciplines is £27,300, increasing too approx. £42,000+ for senior roles and £90,000 for board level.
Crucially, our survey found that 75% of Civil Engineers responding, cited 'Flexible working conditions' as a major factor and the most valued benefit of employment, and 51% of respondents suggesting a lucrative bonus structure and decent pension package was the next most valued attribute of employment.
Perhaps unsurprisingly, when considering the attractiveness of a new role, 78% of civil engineers said that an increased salary was the biggest factor, with 53% pointing to good prospects for career progression. While the sentiment surrounding the greatest concerns to their profession included economic uncertainty, followed by a skills shortage, then lack of land supply.
On the back of our survey, James Smith (Director at Vertical Recruitment) said
"More money than ever is being invested in the North West, creating demand for highly-skilled civil engineers. I don't see this changing in the immediate future and expect salaries to continue rising. I'm surprised economic uncertainty featured so heavily in the industry challenges, as infrastructure and civil projects tend to maintain funding in turbulent times.
A significant skills-shortage, coupled with the planned pipeline of major UK infrastructure projects means employers need to work hard to retain their staff".
Wise words indeed, given our analysis showed that upwards of 30% of respondents said they were dissatisfied in their current role.
Our detailed work helps us understand the needs and aspirations of the Civil Engineers of today and tomorrow, and this sets us apart from other recruiters. We appreciate what candidates really want and need from their next roles, and we use this insight to provide the absolute best support and advice to clients to help them attract the best talent, and importantly to retain them too!
Why You Should Choose Vertical Recruitment
Vertical Recruitment's entire recruitment team approach each role and client account with the same dedication and ethical values. We are award-winning at what we do, and the difference we make each day to the worlds of our clients and candidates really matters.
We recommend shortlisted candidates based on a combination of academic qualifications, career experience and a thorough understanding of individual personalities, from graduates right through to experienced senior civil engineers and associate level professionals.
We recruit into permanent, temporary and contract positions. For permanent roles, we believe in making the best possible match of client and candidate, so both benefit from a long-term career that delivers maximum value to all parties.
For employers, this ensures maximum return on investment into human capital; meanwhile for individuals, it provides confidence that their next role will allow considerable job satisfaction and security, as well as opportunities for promotion and other career development.
Because we work with clients across the UK, including multi-national and multi-disciplinary consultancies, as well as smaller independent and single-discipline firms, we can bring to bear the full breadth of that expertise. No matter the size or nature of your organisation, you can rest assured that your candidate shortlist will be of the highest calibre.
How Our Retained Recruitment Service Works
If you need multiple candidates over an extended period, our Retained Recruitment Service makes it easy to manage your costs and investment. We provide a totally transparent fixed fee structure with no upfront costs each time you advertise a vacancy.
You pay only when we provide you with a candidate shortlist, and if you feel none of our suggested applicants is suitable, we can produce a second list of talented individuals. You can offer whatever salary you wish; we will not increase our fee if you choose to pay more to secure the best candidate for the role.
Get in Touch with Vertical Recruitment Today
We welcome all enquiries from organisations of any size recruiting for Civil Consulting Engineering roles, as well as new graduates and experienced individuals seeking their next opportunity in any related discipline.
As a leading Civil Consulting Engineering Recruitment Agency, we have developed and maintain working relationships with leading stakeholder companies in the UK Civil Engineering sector. Our consultants do their utmost to exceed expectations, securing highly skilled and dedicated candidates that add to the value our clients and bring infrastructure projects to life.
With offices in Manchester & London, our civil engineering recruitment experience has developed commercially over the past 10 years. We've placed senior engineers on some of the UK's most ground-breaking civils projects, partnering with blue-chip organisations and world-leading consultancies.
Civil Engineering must adapt to keep pace with the societal, environmental policy changes that face the construction industry. We will help your business secure the best talent to keep you ahead of the curve. If you are seeking talented individuals for your Civil engineering roles, or you are an applicant with experience, and the qualifications, then please call today.
Contact Vertical Recruitment today to see how we can help your search for the right person or the right role.